Landmark CPAs is pleased to announce Chance Locklear has been selected to receive the Arkansas Society of Certified Public Accountants Outstanding Emerging CPA Award for 2021. Locklear was recognized last week during the ARCPA Officers and Directors Meeting.
The Outstanding Emerging CPA recognizes a CPA who has made significant contributions to the accounting profession as well as the community at large. Recipients demonstrate exemplary leadership qualities and skills.
Chance Locklear is a tax manager in the Fort Smith office of Landmark CPAs and has more than seven years of public accounting experience. Chance serves a variety of clients including small businesses and has played an integral part in assisting the firm's clients as well as local banks with Paycheck Protection Program loans and other pandemic assistance programs.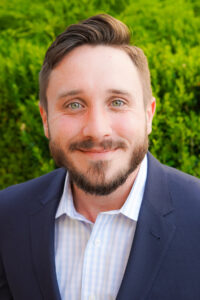 "Leadership skills are an important key in any successful business. Chance has the ability to take on a variety of leadership roles and has been instrumental in overseeing our CARES Act Task Force, keeping up with the ever-changing legislation during the pandemic, and assisting our clients and community throughout the complex processes of pandemic assistance," said Landmark Member Chris Cluck. "Chance was tasked with an issue that was new not just to our firm, but new to our industry," added Landmark Member Deana Infield. "We are grateful to have him as a member of our team and proud that he was chosen for the much-deserved Outstanding Emerging CPA Award."
Chance is a University of Arkansas – Fort Smith graduate with a bachelor's degree in accounting and business administration. He successfully completed the requirements to earn his CPA license in 2019. He is a member of the AICPA and the Arkansas Society of CPAs and is the legislative representative for the Western Chapter of ARCPA. He is also a member of Beta Alpha Psi and Beta Gamma Sigma. He treasurer-elect of the United Way of Fort Smith, a UAFS mentor, a youth leader at his church and a volunteer coach.