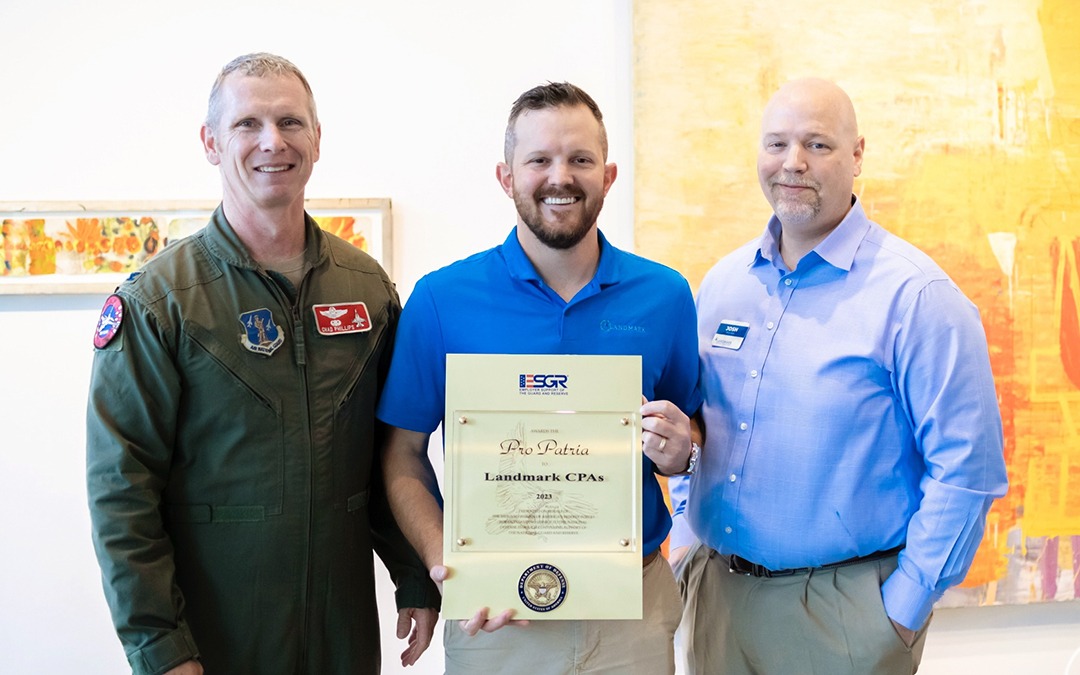 Arkansas Employer Support of the Guard and Reserve, a Department of Defense program, presented Landmark CPAs with the ESGR Pro Patria Award in recognition of the extraordinary support of employees who serve in the Guard and Reserve. The esteemed recognition is the highest-level award that may be bestowed by an ESGR State Committee. The award was presented in a special ceremony on Friday, July 7, at the University of Arkansas – Fort Smith Windgate Art & Design Building.
"The ESGR Pro Patria Award was created to publicly recognize U.S. employers providing extraordinary patriotic support and cooperation to their employees who have answered their nation's call to serve," said Retired Maj. Gen. William D. Wofford, Arkansas ESGR state chair. "Supportive employers are critical to maintaining the strength and readiness of the nation's Guard and Reserve units."
The award recognizes employers who have demonstrated the greatest support to Guard and Reserve employees through their leadership and practices, including adopting personnel policies that make it easier for employees to participate in the National Guard and Reserve.
"No matter what my military career demands of me, I know I have the unconditional support of Landmark," said U.S. Air Force Master Sgt. Dustin Flaspohler. "The firm does a truly amazing job of making me feel like I am a very important member of a family, not just an accountant at a firm."
Landmark CPAs joins thousands of American employers who have reviewed and amended their current human resources policies to ensure compliance with the Uniformed Services Employment and Reemployment Rights Act (USERRA). Many employers provide support far beyond what USERRA requires, including pay differential to offset the loss of wages, and extension of health care benefits to complement coverage provided by the military when their employees mobilized.