Landmark PLC, Certified Public Accountants is pleased to announce the firm is the recipient of the Arkansas Society of CPAs 2021 Public Service Award for Firms. This is the fourth time the firm has received the award.
The Public Service Award for Firms recognizes firms that have distinguished themselves in their public service contributions to the communities it serves. The award intends to encourage more CPA firms to initiate or increase their community activities to reinforce the profession's reputation for commitment to the public good.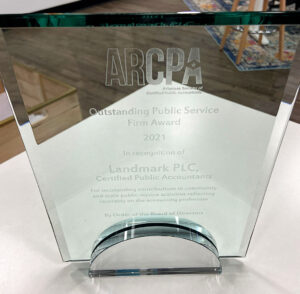 "Since our firm's story began more than 60 years ago, we have embraced core values that include respect and compassion for others," said Landmark Co-Managing Member Josh Masters. "In the same spirit we serve our clients, our team believes we should serve our local communities as well. As a member of the business community, we have a responsibility to make a meaningful difference in the improvement of our local cities, and we encourage our employees to give back by volunteering in our local communities."
Landmark has a long tradition of commitment to our state that includes participating in community events and serving on state committees, task forces and local boards. Landmark volunteers can be found in more than 50 non-profit organizations in Arkansas, contributing time and talent to serve and bring awareness to charitable needs.